Shows and Exhibits
Cedar Street Galleries presents


"Community"
Works by the Artists of the
2014 American Savings Bank Calendar

January 23, 2014 to February 16, 2014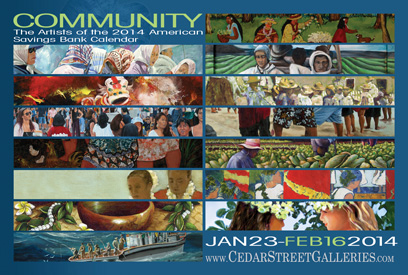 The Second Floor @ Cedar Street Galleries will be hosting the "Community" art show which features the works of the artists in the 2014 American Savings Bank Calendar. The artists showcased capture the essence of Hawaii's heritage through the familiar scenes of our islands — a montage of images that we feel represents "Community." The opening reception will be held on Thursday, January 23, 2014 from 5:30 p.m. to 8 p.m. and is free and open to the public. The show will run from January 23, 2014 to February 16, 2014.
Featured Artists:
Public Invited
Preview Reception
Thursday, January 23, 2014
5:30 p.m. to 8 p.m.
817 Cedar Street, Honolulu, Hawaii 96814
Ongoing Exhibit of More Than 350 of Hawaii's Best Artists'
Paintings, Sculptures, Glass, Wood, and Ceramics.
Click Here for Directions to Cedar Street Galleries